Quick review for a quick item! So you're doing athletic things and you have your hair pokin' your eyes like me in football. Here's a review of the Nike Swoosh Sport Tipped headband!
Value / functionality
In this category, this guy is 10/10. Considering also that it's prices at ~$14CAD and there's 6 of them? That's definitely good value there!
I was looking for a headband that's a little bit wider than this initially. You know those headbands that are around 5cm wide(height?)? I was looking for those initially since it'll hold your hair higher. I gave this "strip" design a shot and it does the job. Yes, you'll have to set it higher on your head but that's a negligible change. I don't mind as long as it does the job.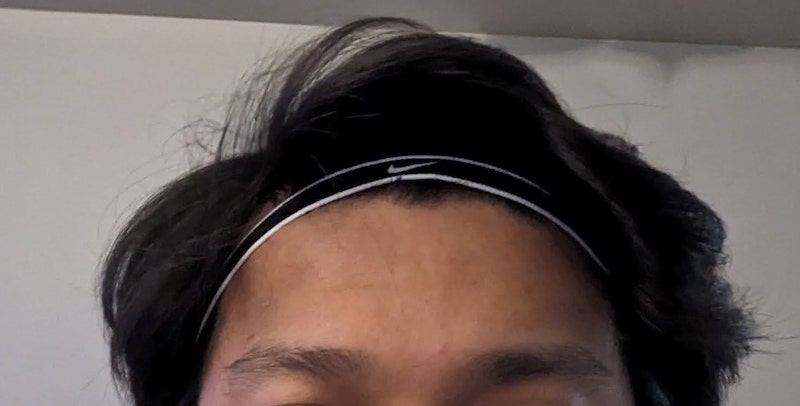 With my previous headband too, it didn't have the rubbery strip inside it. I know it's more functional to have it since it grips on your hair and it doesn't slide around as you run. However, I don't like that because every time I would try one, the headbands I tried would be tight and have that rubber inside it. It gets to grippy for my liking for hair. I'm an aging dude. I'm trying to preserve as much as I can 😅
When they're selling it in Sportchek. There's this pack and there's a separate product that looks exactly the same but the product name has "MEN's headband". This one I bought didn't have that. Honestly, I don't think there's any difference at all. Just colour choices.
Fit
It's definitely comfortable and you don't notice it after a while. It sits in the proper balance of "you want it comfortable and forgiving" but at the same time "it doesn't move around as you play". The tightness is very forgiving and it doesn't feel like tight rubber bands on a watermelon. It also doesn't move at all. 0 instances so far.
I've had experience though where, as you can see in the images above, I've had to push the headband up more since my hair falls down closer to my eyes as you run. It's not like it loosened up and slid down though. It's just because it's a skinny headband so you have to set/drag it up a bit more. That's why I was preferring the wider headbands as mentioned above.
Wrap up
That's the shortest review I've had so far! The product's pretty simple and I think those are the most relevant things to mention to you guys. Let me know if you have any more questions.