Austria is a just an awesome, awesome place for snowboard wonderland. I'm sure it's great for skiers too but just for snowboarders alone, there are so much reason to love this place. If you know about this place already, you know what I'm talking about. If not, maybe this is a place to consider on your next ski trip. Don't jump on the bandwagon all at the same time though or you'll ruin the place. I wanna share the beauty of it but don't be a douche 😉 This article is a review of Obertauern: the town, the mountain, people, places, etc. This article will NOT contain The Ski Week review. If you want, I have a totally separate and comprehensive review of The Ski Week.
I wanted to include tons of photos but it's time consuming to dig. Also I figured videos would be better. So here, watch this instead!
(It was during The Ski Week but there are tons of footages of the mountain!)
First, Trivia (of Austria in general)!
This is for my enthusiasts and beginners, maybe even experienced snowboarders too. I'm a bit of a nerd even when it comes to snowboarding. I like knowing the industry and all the small details 🙂
Did you know that a big chunk of snowboards are built in Austria? If you've seen recent boards especially brands like Burton, you will see it written on the board: "Designed in i-forgot-what-US-city, built in Austria. The Jones/Nidecker umbrella also produce in Austria too. I think Capita as well.
Mountain-wise, they're world-class. When you say Austrian alps, that's along the Swiss/French/Italian alps level. If you also google the best mountain in Austria, Obertauern isn't even at the top of the list. But that doesn't mean they're shit. I'm always happy, extremely-satisfied, and having a good time every time I'm there!
Audi Nines is also held in Austria. Sölden though, not Obertauern. You know those vids you see in insta or youtube of pros making these colossal jumps and then there's a random Audi logo or Audi car in it? Anyways, I'm getting sidetracked. I can talk about snowboarding forever. On with the review.
Location (Getting There and Back)
Obertauern is 1h – 1h20m drive away from the beautiful and quaint town of Salzburg…where it's Mozart-everything. As a North American, it's fairly easy to find flights to go there. From the airport to Obertauern, it's easy to find shuttle (or transfer 😉 ) services online too. I'm trying to look for the company I used but I can't find it. I think it's a yellow-on-black logo though. Either way, all the companies/services there are fairly reliable. Even if you arrive there without reservations, it's fairly easy coordinate one after you pass arrivals. But plan though…or price tag shock LOL.
First Impressions
Getting there was just beautiful. Once you get there, ugh, I was just smiling the entire time. It's a proper ski town, a EUROPEAN ski town! It's a fully functioning ski town with everything you need. You want food variety? They have 'em. You want different accommodation options, yes. Gear breaks down and you need to buy something? Of course they do. This happened to me and thanks to Blue Tomato , I was able to get another set of boots! You want late-night diner/pub food after going crazy with your après? They have that too, like Lazy Flamingo. You want delicious pasta and more importantly actual Austrian Schnitzel? It's all over the place!
The town is lively both during day/night time. During day time everybody in the town works and you can see the town operate and come to life. You won't find the slopes dead too. There's always something going on. I notice that the bunny hills are always occupied. That bodes well for future skiers and snowboarders. There are lots of interested people giving it a shot but it's not packed though.
Constant events happen there too: obviously The Ski Week is held there. Also, we chanced upon the Johnny Däpp guy too one time in some bar during après loool. There's also this annual event I see in insta where they do a scavenger hunt / digging event and you find a prize!
Let's just say if I spoke German and I had no financial responsibilities, I'd be down to be a ski instructor there hehe!
Prices
As usual, let me contextualize this for you. Personally, I would say that the prices are fair and reasonable. I would pay 10-13€ for a pasta, pizza, or schnitzel, and I'd be coming out of that restaurant satisfied, happy, and full. Portioning is large too.
Now there are certain things that make it look (or probably is) expensive. I call this "expensive due to circumstance". For one, you need to get there first. For me, I have to fly. That's a big expense already. But even if you live in EU, you'd still have to drive to a mountain, which means another mode of transportation. Once you get there though, prices become regular…ish.
I say "ish" because the nature of ski towns (wherever in the world) is that it's a hard-to-get-to destination, so prices may be slightly inflated due to supply/demand. However, I find that there isn't much of a big jump compared to here in North America. Also, things are also just automatically…premium. Imagine that if I build a shack in that town, that dinky place would automatically be classified: "premium location", "with a gorgeous view", "steps away from lift". And as a consumer I'd agree and happily pay lol.
There's also the foreign exchange dilemma, if you're like me.
Here's a very good news for you though:
Did you know: that in Europe, Ski resorts are "public"? In North America most likely any mountain you know would either be owned by Alterra or Vail Mountain Resorts. (see edit below). This is why there's always a "village". They built, private everything. Locals can't just establish anything there. It has to go through the company. In Europe, I'm not sure who owns it if it's the local government and in cooperation of/or private entities but what I'm trying to say here is that the private company is not hoarding the space.
Edit / Correction: After seeing more documentaries and "how it works" vids, the land where ski resorts are on is NOT owned by a private organization. If they did, that's a LOT of money and a lot of natural/eco/world concerns. In both North America and Europe (and possibly globally), the land is owned by the government which they then lease/license(?) out so private organizations can establish a business on it. The difference I can see then is that in Europe, the ski resort companies essentially just focused on building the lifts, the operations, the maintenance of the sport in the middle/as part of a town. In North America, they've licensed a big chunk of land, built real estate and lifts there so then no one from the public can build anything in their property. They have full control of the main attractions in the area.
To be fair, maybe Europe's approach was…-there is a town already so you're just building infrastructures around it. And then when it came to North America, there was nothing to start, so really private orgs did all the heavy lifting: building the town, urban infrastructures, attractions, etc. In my eyes that's fair sure…but still would be nice if it's as open as Europe later on 😛
Ski lifts are scattered all of the entire town. There is no entrance/parking fee. And since it's like any other town, if anyone wants to build accommodation/establishments there, they are not subject to the approval of the private resort. The result? There is soooo much variety in food, accommodations, etc. There's also an actual life in the town. The private company is really just there to operate the lifts and the slopes. The most important takeaway here btw is in Europe, lift tickets are relatively cheap.
Check this f*ckery (of NA resorts) out: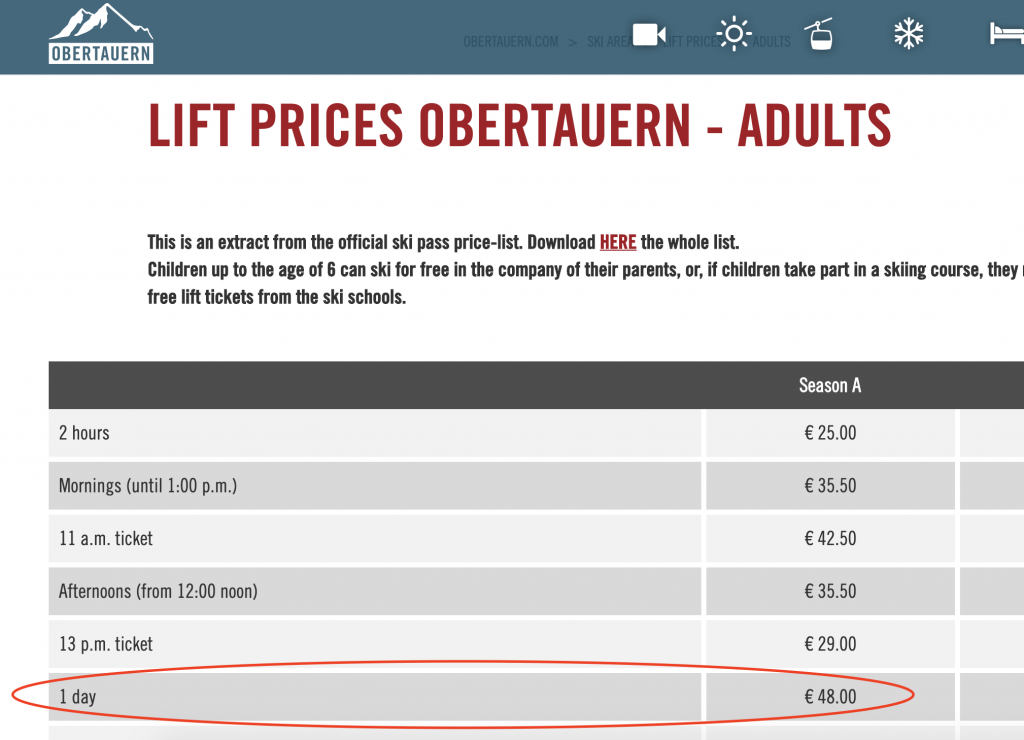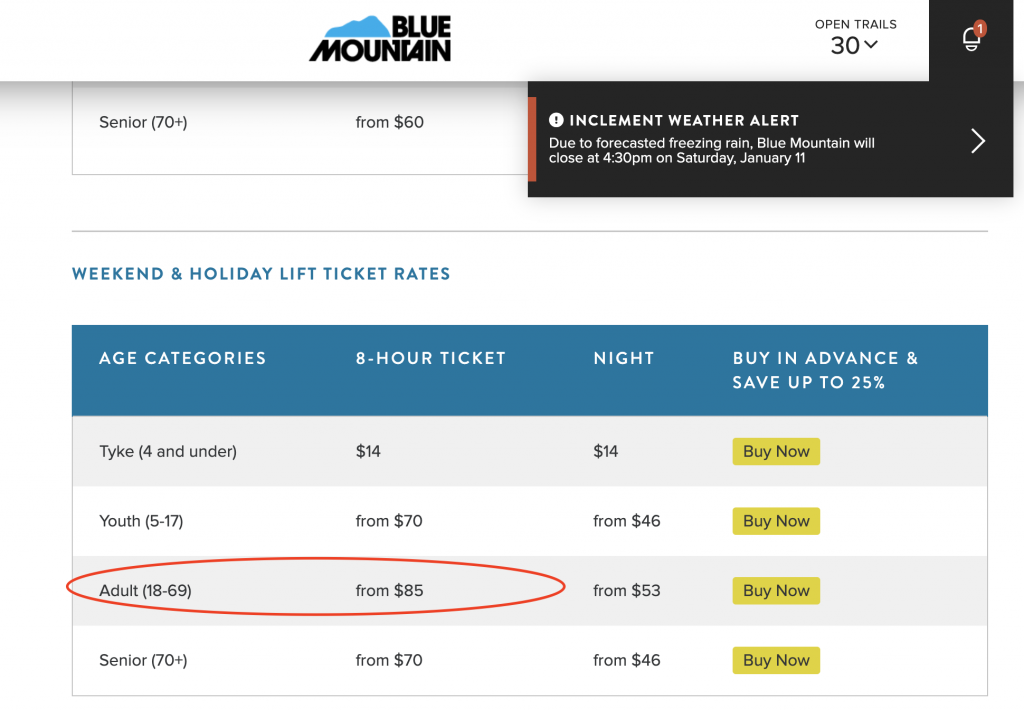 LOOK AT THAT: compared to same currencies, Blue is STARTING at $85 CAD when Obertauern is $69.67 CAD. Obertauern is world-class and AT LEAST 5 times bigger, better, more fun, more amenities, etc.
Now after that little rant, overall I'd say prices in Obertauern are reasonable and well within the circumstance of the town!
Accommodations
As I've mentioned, there are lots of accommodations to begin with. There are lots of variety, and lots of local mum-and-pop places which I think makes everything look and feel so beautiful and authentic! Due to the nature of the layout of the town though as I've mentioned, most locations you end up with will probably be close to a lift. Lots of ski-in-ski-out too!
Quality-wise, all my experience there is always good. It's also nice because the most of the accommodations you will probably book will have a bäckerei (bakery) or a restaurant just downstairs!
Moving Around
They have busses yes. Most places or things you'd need are walking distance though. You'd want to walk and explore anyways especially if you're a tourist.
They also have this new (for me) taxi set up wherein the price for the cab ride is fixed; I think around 12€ if I remember correctly? Their cabs are those…european van things though lol. I can't describe it. I forgot the type of car. But basically if you google image the shuttle that brings you from Salzburg to Obertauern, it's that same vehicle.
It can easily fit 7 fully-geared people. They even have this cage thing are the back so your ski/snowboard gears aren't taking up seat space!
It sucks if you're just 1 person cab-ing for a short distance. Then again, why would you? Most likely you'll be in a group and you landed way off from your accommodation or you're partying so it's very easy to split and justify the fare.
Food
I'll tell you right now, if you want to have a truly epic, delicious, and full experience, drown yourself in schnitzel, Spätzle, Austrian/German beer, and Speckknödelsuppe! You'll see sauerkraut and horseradish in some dishes too which I like!
They even have one of my favourite shots: Bauern Tequila!!!
It's so epic! It's basically a tequila shot….but then there's a slice of ham on top and then horseradish (at least the one I had 😛 ). If I'm remembering it right you lick the horseradish (that's basically wasabi fyi lol) first, take the shot, then eat the ham LOL.
When I first tried it, my mind can't process it: Am I eating a delicious goodness right now or am I reckless drinking LOL.
Outside my highlights and favourites, there are lots of options in the town. There are different cuisines and even let's say you come in a local Austrian restaurant, they have lots of varieties inside too: German, Italian, French, etc.
I love their bakeries too because there are lots to try. And also, Austria and chocolate guys; let's leave it at that lol.
…hngg…I wanna be there right now lol.
People
I have nothing to say but great things about the people of this town, or even the Austrians in general that I have met in life! They're friendly, sociable, approachable, and fun!
The lady in one of the hotels I stayed in was very happy and proud to talk about and tell me all the good tidbits about her town! The cab drivers, I'm always talking to every one of them and they're very friendly and they always . People in groceries and restaurants are helpful in teaching me some german words. When my bindings broke, I was talking to this girl in the snowboard shop, got her contact, and we also planned on riding one day.
Like most ski towns (and also since this is Europe), you also meet a couple of people that "Oh hey I moved here from UK/somewhere else in Europe to work here for the season as X" which makes it fun!
For the most part, they get my humour and my jokes too even if I'm talking to random people in the town. Unfortunately I'll have to leave this vague because it'll show more a lot about me than Obertauern if I elaborate haha! These are things only some people are privileged to know 😉
The Slopes
What to say, everything's just excellent in this place!
In terms of snow quality, you'll never run out and it just keeps on dumping on certain times. I can't find the source but I did read in a printed material that Obertauern has some geographical/altitude advantage so their snow melts slower and they end up with longer seasons and better quality snow. The mountain is large too so you won't run out of space or you won't be packed with everybody. At the base/town level you'd see lots of cars and people on a weekend, but once you go up the lift or you go skiing anywhere, it just feels like weekday traffic.
The are lots of variety in terms of difficulty so there's fun for everybody. They even have certain cool features like a speed run (long, straight down slope, and there's a speed gun in the end and you'll see your speed on the board. Everybody can use it!), and that..winding, banked tracks, so cool!
The only downside is in both times I went there, there aren't good terrain parks there.
It's not even because there was one and it melted or something. There's a section of it in the map but when you go there, there's barely any jumps there. There are some boxes and pipes but even the layout I find confusing. The features are not one after the other. It's just an area…a bowl, and the features are pointing to the bottom of that bowl LOL. It also feels like if everybody used the feature all at once there'd be a lot of collisions loool. I dunno, maybe it's a European thing I'm missing, or maybe it's march every time I visit and they're slowly closing that area. I don't know lol.
Overall the place is great! Nothing to worry about. Head there and everybody's going to have a great time! People of different ages, skill level, means (ski/snowboard) will have a fun time!
Things to Consider
They speak German but you will definitely get by with English everywhere. Don't be that tourist that's loud and obnoxious though. Learn at least danke.
There's altitude. The town itself is high already so driving there you'll feel that ear-popping sensation. If you're not used to it like me, you'll have to get acclimated. I remember going up a flight of stairs carrying my gear, I was panting hard after like I did 3 workout sessions. Your body will have to adjust. The following day, a simple green trail will give you the same effect.
It's Europe. In North America, we have green, blue, and black trails for difficulty levels. There they have green, blue, RED, and black. Just imagine splitting the North American blue trail to: easier blue and harder blue (the European red).
That's it. It's been too long and I'm spent already to make a conclusion.