If you're looking for a (very) warm midlayer ski / snowboard jacket that's also very flexible that you can use it for every day winter demands, look no further! Read on to see how good this Volcom Puff Puff jacket is but also don't forget the important tidbit below about its warmth.
General observations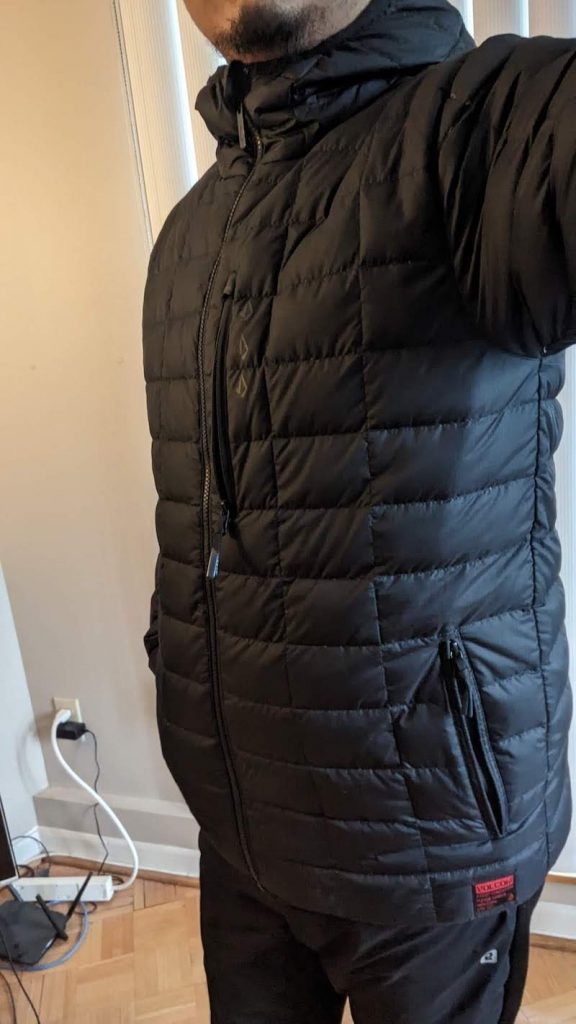 I like the look of it. It's simple, proper, and clean. I like that it has a chest pocket too. Everything can be zipped up to prevent yard sales.
Look-wise, I really don't like grid-stitched down jackets. I think it looks shit. But I've grown to like it now and find the excellence in it. This is done so that the down inside stays in those exact places.
Looks-wise, the badass design I think is those "V" stitch; the second is the horizontal thing. But if you think about it, the V is bad because over time the down slide and concentrates at the bottom of the V. So after a while, I've come to understand and love the great advantage of this cubed/grid design.
It has great fit I would say. I have the Medium and I like how it's snug through my arms. It hugs your arms and you know there isn't excess space in there. There's enough space for long sleeve baselayers or sweaters though.
There's no cord midwaist or at the bottom of the jacket to tighten jacket. If you're looking for a contoured jacket for looks, this one's just straight.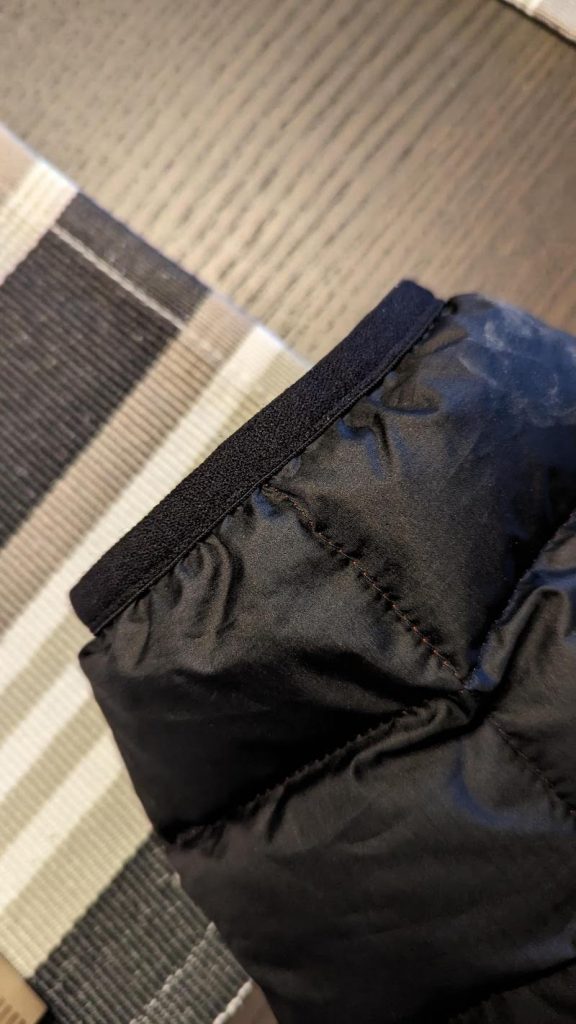 The bottom of the jacket has this elastic thing, similar to the cuff in the photo above. It might be a concern when bending over because it's snug-to-fit so your butt catches it as you bend over. If you're sensitive to the motion, you'll feel a tug on your neck if you fully zip and bend over.
It's a good thing in a way that it keeps the opening almost tight so there's less cold air coming in and hot air coming out.
This jacket offers decent rain and wind resistance too for a midlayer. I've experienced this in light rain, wet snow, and windy conditions waiting in the parking lot and I'm dry and warm as an air out of a humidifier.
It also comes with this pouch so that you can stuff this jacket and have it portable when you don't need it. The jacket's very light btw!
Pros
Cheap. I notice it gets a big discount too every end of season btw (that's when I bought it :D) We're talking at least 30% off.
You get the most value. I would give this jacket 13/10 in value, 9/10 in utility. For the price you pay and the warmth, comfort, and dependability you get, it's just a good ROI.
Warm. Really. f*cking. warm. 10/10 It's so warm that I actually use this frequently as my winter jacket when I go out on errands, socializing, and just general going out.
"Thing to be aware of"
(calling this as such because it's my first midlayer and maybe I just "don't know how to use it" or what to expect)
Warm…too warm to a fault I think. It has the perfect warmth iff you're just walking around town and not moving a lot and you're trying to keep as much heat as possible. In that scenario, this is 10/10. If you're using it for winter activities (e.g.: snowboarding), there are some things to know.
The arms are very VERY warm. Let's say you fully zip everything and you run, the first to sweat would be your arms.
I feel like there isn't much breathability to the arms/sleeves of the jacket. The torso is fine because you can control it. I like fully zipping my base and mid layers up when riding but sometimes this jacket is too hot so I just unzip it to my chest area.
On one hand, the arms are fit and snug and they guarantee warmth in any blizzard. Ultimately that's the first and foremost important thing in snow sports. On the other, what I've come to experience maybe 3-4x out of 10 is that it's causing you to sweat so much that you end up with very sweaty arms which can be a concern.
Even if you fully unzip your jacket, it doesn't naturally blow out the humidity in the arms. I find that if you want to circulate the arm in the arms, you'd have to sway them back and forth constantly. You'll even feel it on your palms that the jacket is indeed puffing out very warm air when you do.
The reasons for the concern is first, it's just uncomfortable and not ideal. The jacket's so warm that I've worn this jacket riding with just a thin athletic shirt inside (no proper warm base). Again, I sing its praises and that's a good testament to it's warmth, but you sweat so much that the inside of the jacket is sticky to your arms, which affects/annoys me during my snowboard movements.
Sure I can just wear a long sleeves thin base layer. That would solve the 'feel' problem but I think the humidity and (un)breathability is still there.
Second, and the more important reason is, down jackets lose their heat retention the more it gets wet. I experienced this once last season. Not fun. It's not like it goes from 10 to 0. It's like this:
During my first run I'm normal heat and dry.
After a few intense runs, I'm SOOO hot inside and sweating.
I use the lift ride to cool down and crack some zips.
I can do 3-7 more runs having the same reaction as I get to the bottom.

After I've drenched my jacket enough, you notice you're not as hot as the previous runs when you reach the bottom. Wet-wise, you're wet as fuck as you were the runs before.
You ride the lift and you "easily cool down".
You ride down and you notice: "ah this is nice, it's not a hot and steamy as I ride down. This is good and comfortable".
(what's actually happening is there's no more heat retention going on and you're running your remaining gas tank).
You get to the bottom again and feel cool (cool and chill, not yet a concerning freeze).
So you tell yourself, "no worries, as soon as I start bombing down the hill, I'll build up my heat again".
NOPE. That's where it gets concerning.
Remedy for it
The good thing about it is that if this is your story from morning, then you'll be tired and ready for lunch before you get into that critical zone.
What you then do is when you get to the chalet, just take everything out and let it air and dry. One hour is good enough to dry your jacket. When you do, I'd say you get 80% of the effectivity of the jacket back.
Wrap Up
I would buy this jacket again and again for its utility. Remember, I originally bought this as a midlayer when riding but I've ended up using it way more than just snowboarding.
I have yet to figure out how to properly use these down jacket midlayers. I really love that it's hot because as an east coaster, we get butt-freezing temps here. At the same time, the overheating and over-sweating are always at the back of my head every time I ride. One shouldn't be stressing about this when you ride so it's kind of a negative to me. So far, riding with 1/4 of the zips unzipped is a good compromise (my outer jacket is still fully zipped though).
Worst case scenario I end up shelving this and reserving it for ultra cold days but even if I have a season where I don't use this at all while riding but use it for every day, it would still be a great buy.
Edit (2023-05-19): There's a growing part of me realizing that maybe I'm just misunderstanding the intense warmth it gives. Maybe I just don't know (yet) how to appreciate it. Because just yesterday I used this again while I was on the bench on 10C or less weather playing soccer.
The fact that I use this again and again EVEN outside snowboard should be a good thing right? It's a testament to how good it is.