So you're a paella hunter like me. You love paella and you love travelling. You also travel solo (at least for your upcoming trip in Spain). Well, I'm not going to make it long for you and here are my three tips! I'm excited for your trip!
Tip #1: It's "minino 2 personas" (en: "minimum two people")
One of the things I remembered on the spot was that when they're being served in a restaurant is that it's almost all of the time "minimum two person". I went to Valencia and it's funny because I know this when I went to Barcelona last time, but I forgot. So when you look at the menu, the line item price you see in the menu is for one person (so you'll have to x2) that.
"Maybe I can request just one serving?"
Trust me I tried. It's not advisable. I had one restaurant actually say yes to me but it was bad. I feel like I did a disservice to Spain and paella doing that. The biggest giveaway is that it was sent to me around 20mins (you'll see in next point why this is not good). And then when I got it, the rice wasn't fully cooked (barely soft, and then crunchy on the inside).
I suggest that if you're travelling solo like I did, –first of all, kudos and good-fucking-job– try to find a paella buddy when you get there 🤣 These are literally the types of reason why I'd use dating apps.
Tip #2: It's usually minimum 30mins
Preparation time is usually 30mins, minimum. You want that. It's always made on the spot, from scratch. It's better that way and probably a big factor as to why it's so damn delicious. You don't want it any faster or else the quality suffers as mentioned. If you're North American or you're used to the quick and snappy service, you'll have to curb your expectations here lol.
It's tough because let's say you're ok to waiting, it's so tempting to order appetizers or something. This is also what the restaurant wants you to do anyways. The problem is, the more you eat apps, the less space you have for your 2-person paella LOL. Yup, I've done that haha! Me to waiter: "2 personas? bale, no problemo" 🤣
You can wait for it if you want. I'm just not used to it. I wasn't bothered just sitting there sipping wine for 30mins. I didn't give a fuck what other people thought. I'm just not used to it because that's 30mins of me not doing anything lol. That could've been 30mins playing football somewhere…
Solution
When I asked locals, what they actually suggest is that you can call them ahead of time so they can prep it in advance and they'll be ready when you arrive. Again, if you're North American I'm not talking about using Uber Eats or SkipTheDishes or something.
Either you call the restaurant (and the challenge is that you'll need to speak spanish) or you get their number and then WhatsApp them (they're like Asia like that). There's no automated, UberEats way to queue it.
Tip #3: You can't take it out :/ Yup.
So this one time I actually called them, but instead of ordering in advance, I actually wanted to order on the phone then I'll pick it up. I was struggling with my minimum Spanish that I know and they said a bunch of stuff but it was basically a no.
I said "para llevar" (to bring aka to-go/pick up). I figured it was just miscommunication since I'm not really using the words right. "para llevar" is when you're on site and you plan to take it out with you. I'm thinking it's not necessarily "order for pick-up". So I figured "hey, they're close by, why don't I just walk in, order, then come back after 30mins?".
So I did just that and I was still refused 🤣 I'm not exactly sure why (I could've known if I spoke spanish; it was on that call) but I'm thinking that maybe it's because preparing it is such an effort that they'd rather focus their efforts and equipments (think of how big and limited that paelleras are) to the dining customers and/or they'd limit to-go's if possible because it's meant to be served hot, straight from the paellera (the special dish used to cook and serve paella) and then the soccarat is sacred (the crunchy edges/bottom of the paella). So I'd imagine you lose that if you dump everything in a to-go container right after cooking.
Tip #4: You actually can find places where they serve single-serve paella
You just have to look for them. First, if you're looking for a restaurant specifically that does one person serving, I don't think that exists.
During my stay in Valencia, I actually found two different types of places. If you're going to Valencia specifically, then you're lucky! If you're not, at least I can describe to you what you should be looking for instead.
I found two places: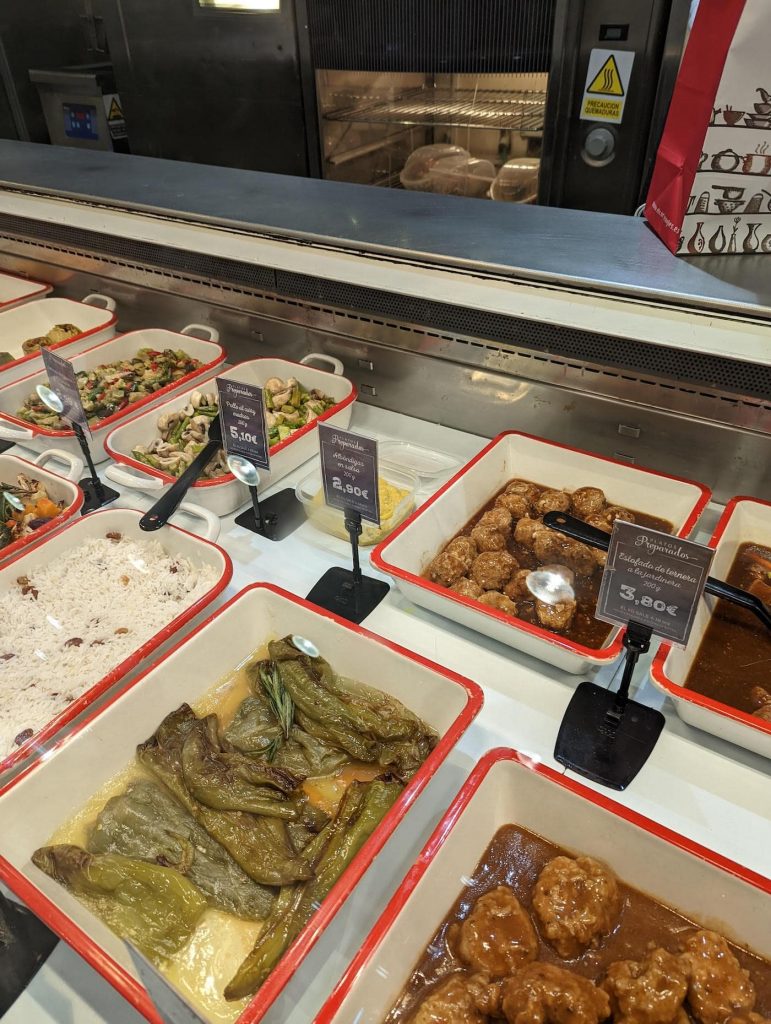 El Corte Ingles – It's this mall (you'll want an AC break from the Valencian heat anyways) and if you go to the basement (food/grocery area), you'll find the hot foods area. First you'll see the pastries (e.g.: cakes), then the pastries (e.g.: napolitanos), and then there's the "prepared foods" section. In that area, look out for paellas especially around lunch time.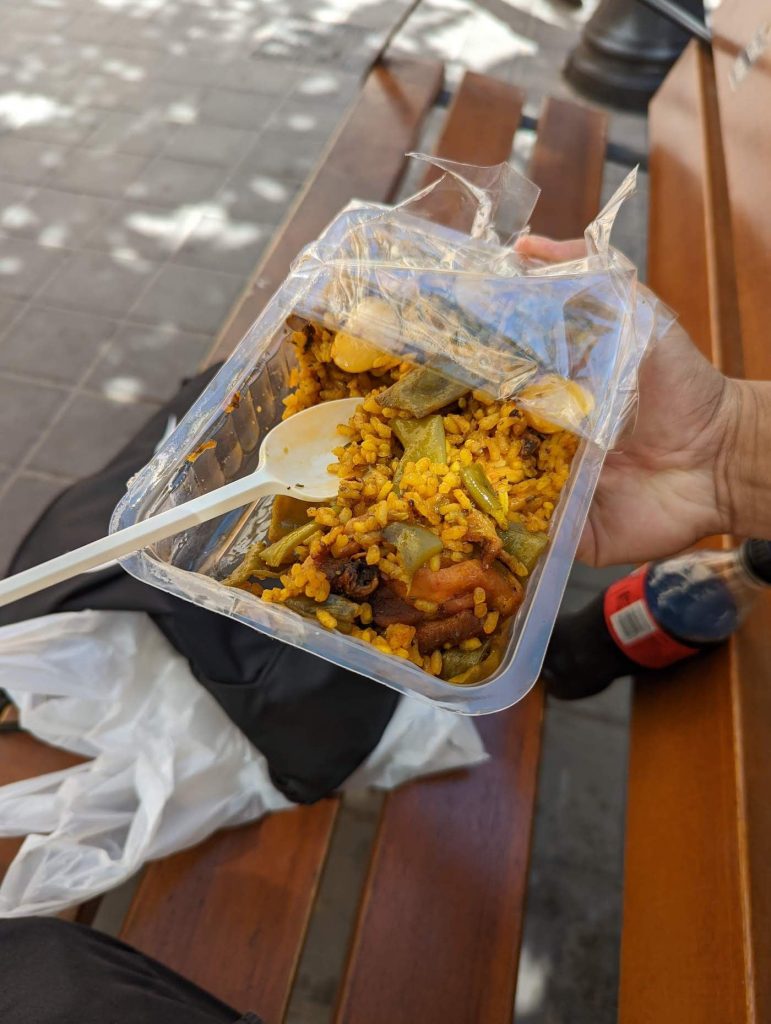 Menhars La Barraca – This one's a small crack on the wall, mom-and-pop shop. They're awesome and food's delicious though. I would suggest this than the other although they're both good. This one's a small business and I think their food is just more authentic.
They serve Paella Valenciana (of course), Arroz Negro (the black paella, due to squid ink), they also have Fideua (paella but instead of rice, it's short cuts of pasta–yup didn't know they existed before lol).
It's literally just take out, no dine in. As you can see, I just got my grub, walked around outside and peacefully ate on a bench (ah life 🤤)
I don't think these types of places are advertised. Well, until you've read this, so share this to your friends! I honestly discovered these places by chance 😁 One was near my accommodation, one was near the beach 😀
Tip #5: If you find single-serve though, they run out pretty quick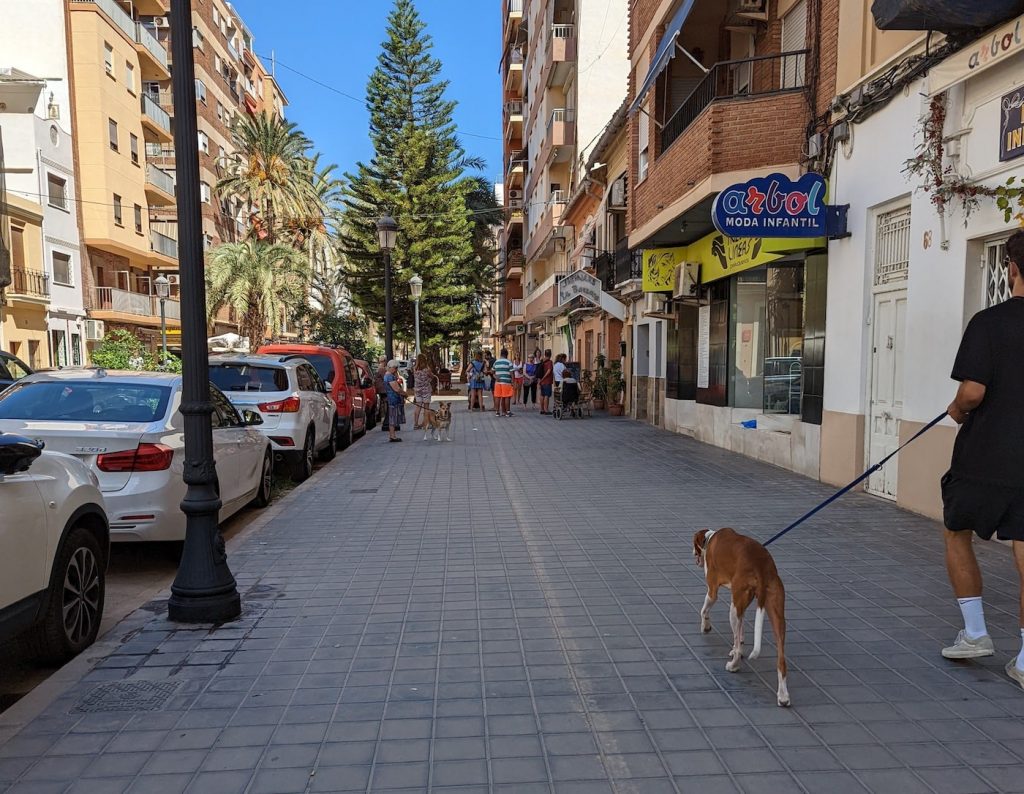 Here's the thing though, if you find these places I mentioned in the previous tip, the thing is that they run out pretty fast…Not just paella but all their delicious food as expected.
I noticed this in both of the places I mentioned. If you pass by around noon, you'll see laaaaarge paelleras, around 3-5 and they're hauling it by the serving area (these things are as big as if not larger than a coffee table, if you haven't seen one). There's only so much they'll make since there's only so much space they have and when they're gone, they're gone.
Let's put it this way, the second time I tried to visit Barraca, I was along the beach and just enjoying my time. I said 'I'll drop by around 3 and have a good lunch/dinner, knowing that they close at 4. I got there and then bam, the place looked like it was robbed. All you see are just open, blank, empty chafing dishes, paelleras. I laughed lol. I am actually impressed and I think it's a good testament to the place. All that was left was some dinky spaghetti that no one wanted and two pieces of croquetta lol. OF COURSE, it's not jamon iberico. Who would leave the good stuff right? haha. But just chicken or fish I think lool. I felt like a rat 😅
SO! The following day I made it a life mission to get there by 1pm, knowing they open around 11/11:30am. I got there and they were out of Arroz Negro and Fideua; the things I wanted to eat! 😂 Literally fml hahah! That's when I took the photo above btw. I was left with Paella Valenciana which was of course good, but I wanted the other flavours lol
Wrap Up
Those are my tips for you when you go Paella hunting! All the best and don't leave it last minute! They run out pretty quick! Remember that there are so many varieties of paellas to try too. In addition to those I've mentioned, there's paella marisco (seafood) as well and oommgg…I'm salivating. Hope you find your paella buddy too!